WASTELESS Course
A Practical Step-by-Step Program to Halve your Trash in 60 days
Rethink Your Rubbish

What if you could find solutions to make the world a better place? Nurture your curiosity and creativity, connect with a whole community passionate about doing what they can to make a difference, improve your health, support independent local businesses and tread more lightly on the planet... all by reducing your rubbish and wasting a whole lot less?
Good news! You absolutely can.
We all make choices that have the potential to create waste every day, and the opportunity to do things differently. We can be part of the problem, or we can be part of the solution.

We have the power to make a difference, starting where we are, with what we have.
This course will show you how, step by step.
WASTEless will give you the skills, tools and resources you need to take action to reduce your landfill waste, rethink recycling and make positive changes to your lifestyle.

The Course Outline: What We'll Cover
WASTELESS is divided into 8 modules covering all the aspects you'll need to consider and steps you need to take to reduce your trash by half.
Whilst the content is designed to get you from start to finish in 60 days, the course is designed for you to go at your own pace.
So no pressure! You can work as quickly or slowly as you like.

You'll have access to all the videos for an entire year and all the course materials (cheat sheets, checklists and 'how to action' guides) are available to download as PDFs and keep forever, so there's no rush if you prefer to take your time and go more slowly.
Here's how we'll divide the content up: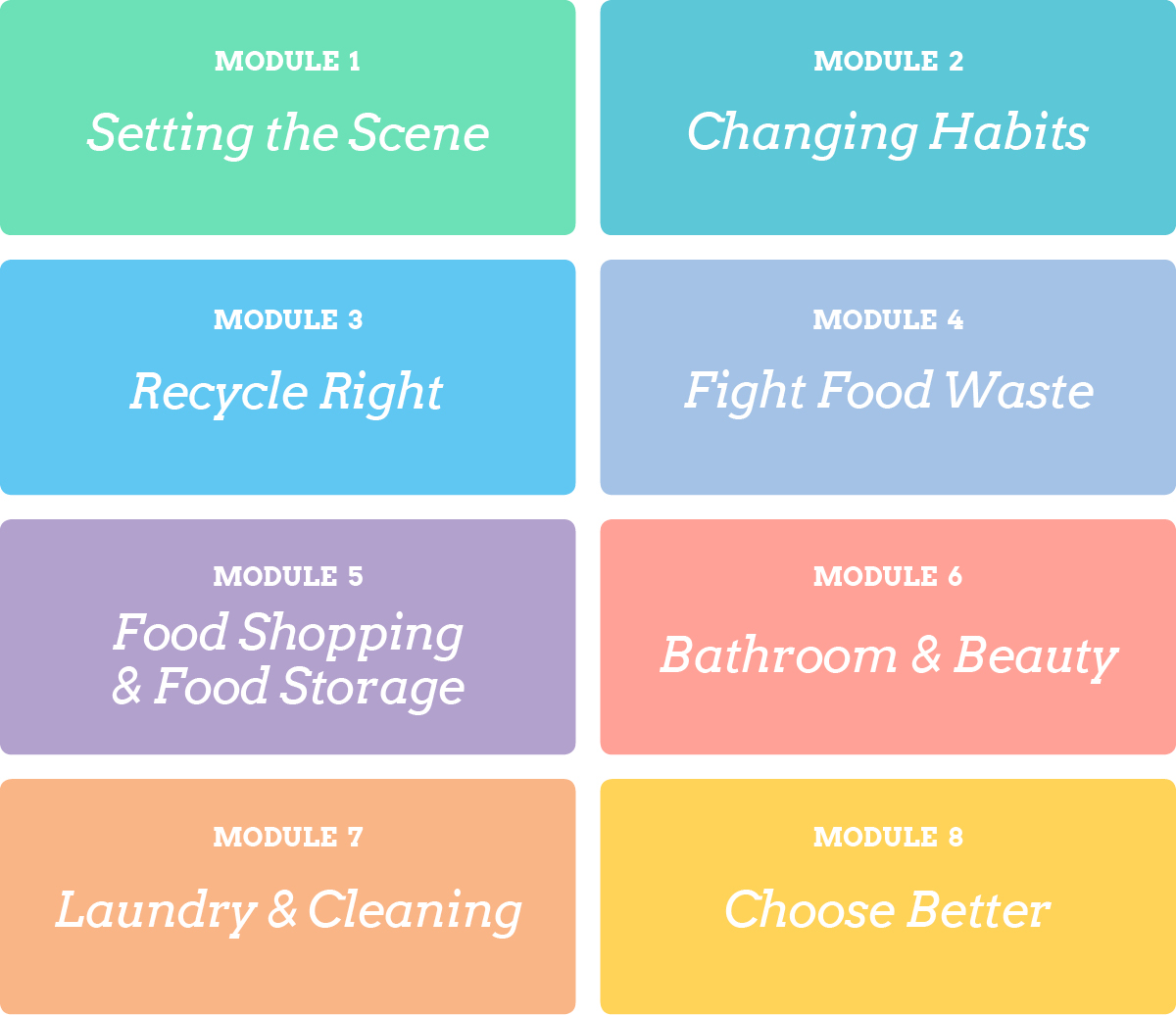 During the first 8 weeks you'll also receive a weekly email with support, guidance and encouragement as you work through each of the modules.

Together we'll walk through every step you need to take and all the things you need to think about when reducing your waste, avoiding the single-use plastic and making lasting changes in your life.
We'll break everything down into easy-to-digest and manageable chunks.
No guesswork and maximum productivity.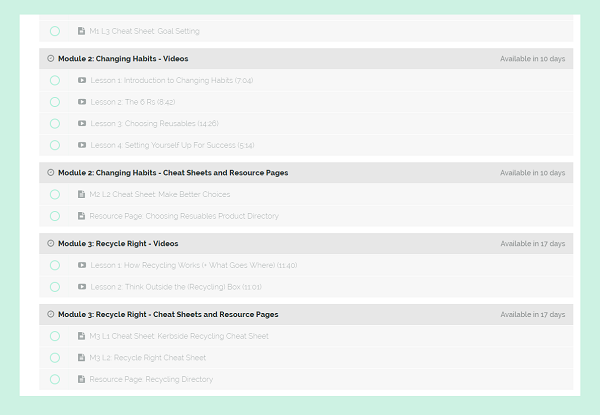 In Module 1 we'll set the scene: you'll find out exactly what you're throwing away and we'll set some goals together. There are also tips for getting friends and family on board.
In Module 2 we'll talk about changing habits,making better choices, choosing reusables and setting ourselves up for success.
In Module 3 it's all about recycling! We'll cover how recycling works as a system and the part we have to play in this, we'll talk about kerbside recycling and all the other options (there are plenty). By the end of this module you'll he a good idea of exactly what is recyclable here you live.
In Module 4 we're talking food waste. By the end of this module you'll know the difference between industrial composting and home composting, which packaging types will break down in each, and you'll be abl to set up and manage a compost bin, a worm farm and a bokashi system. Plus we'll discuss the options if you love the idea of composting, but aren't able to do it at home.
In Module 5 we'll cover food shopping and food storage. We'll talk about food shopping with and without bulk stores, we'll talk about storing food in the fridge, freezer and pantry so we get the best out of it, and we'll discuss how to manage non-negotiables.
In Module 6 it's bathroom and beauty! We'll talk through how to assess the products we already have, go through some ideas for swaps, talk about DIY options - there's a few recipes to get you started if this is your thing, and some other resources if it is most definitely not! Plus we'll talk about people with periods - menstrual cups (in all the detail), reusable pads and menstrual underwear.
In Module 7 we'll cover laundry and greener cleaning. We'll cover washing clothes, drying them and microfibres, different laundry options, and talk about the science behind green cleaning ingredients and which ones actually work.
Module 8 is choose better: we'll talk about second-hand and the sharing economy.
There is also a private online Facebook group exclusively for members of the course, where you'll have a safe space to ask questions, share frustrations and celebrate wins - with 365 day access - and know that your specific questions will be answered. Whether you're on Facebook or not, you'll definitely have email support too.
Plus, you'll be able to ask me anything and expect a response, and that goes well beyond those first two months. You'll have access to support for an entire year - 365 days - to help you continue to take the next steps and make changes long after those early days are over.
But wait...there's more! (Keep reading...)
More Than Just An Online Course

This course isn't just a bunch of online videos, transcripts, slide decks, PDF worksheets and resources (although you will get all of these things, of course!)
This course is a 12 month membership to the WASTEless program.
You'll be part of an online community that's welcoming, supportive and more than happy to help!



This course is a living, breathing program. Because society (and life) doesn't stand still, so why would the course content? If anything changes, know that the core module content will be updated to accommodate it.
This isn't a snapshot of how to reduce your waste based on sometime in early-2020. This content isn't frozen in time. The content is relevant for life, NOW. And it will continue to be so.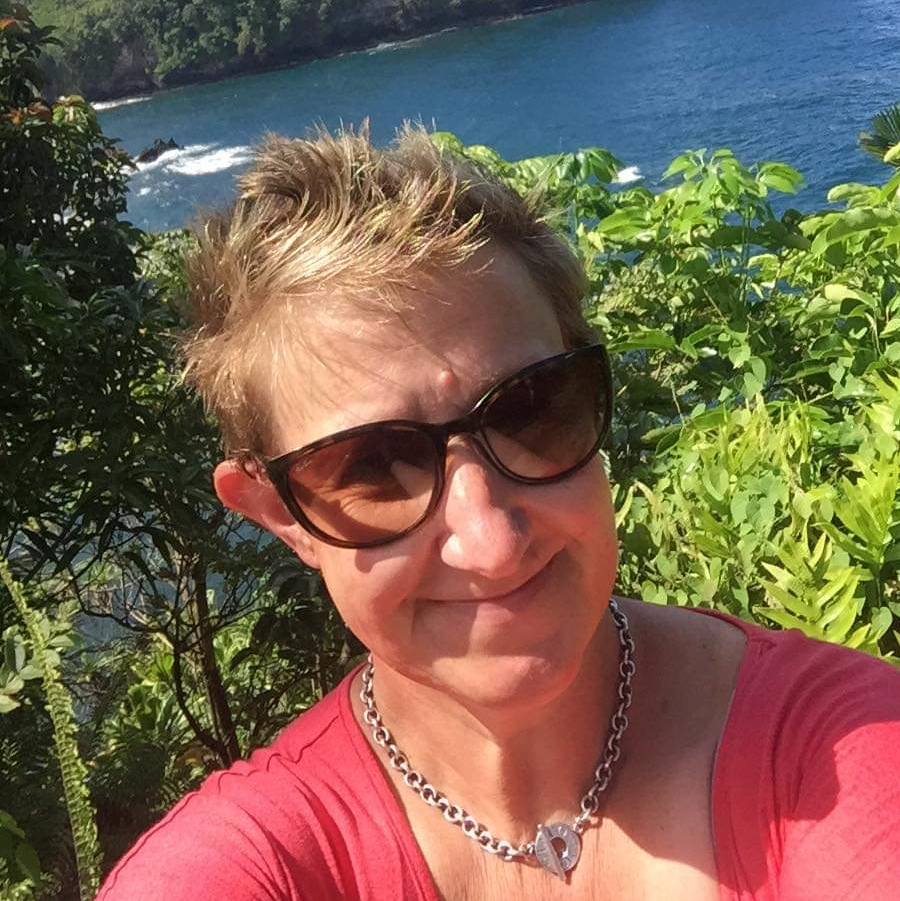 "I thought I was already doing a lot to save the planet. This course opened my eyes to so much more that I can do."
- Tracy Bishop, Lathlain; previous course participant, WASTEless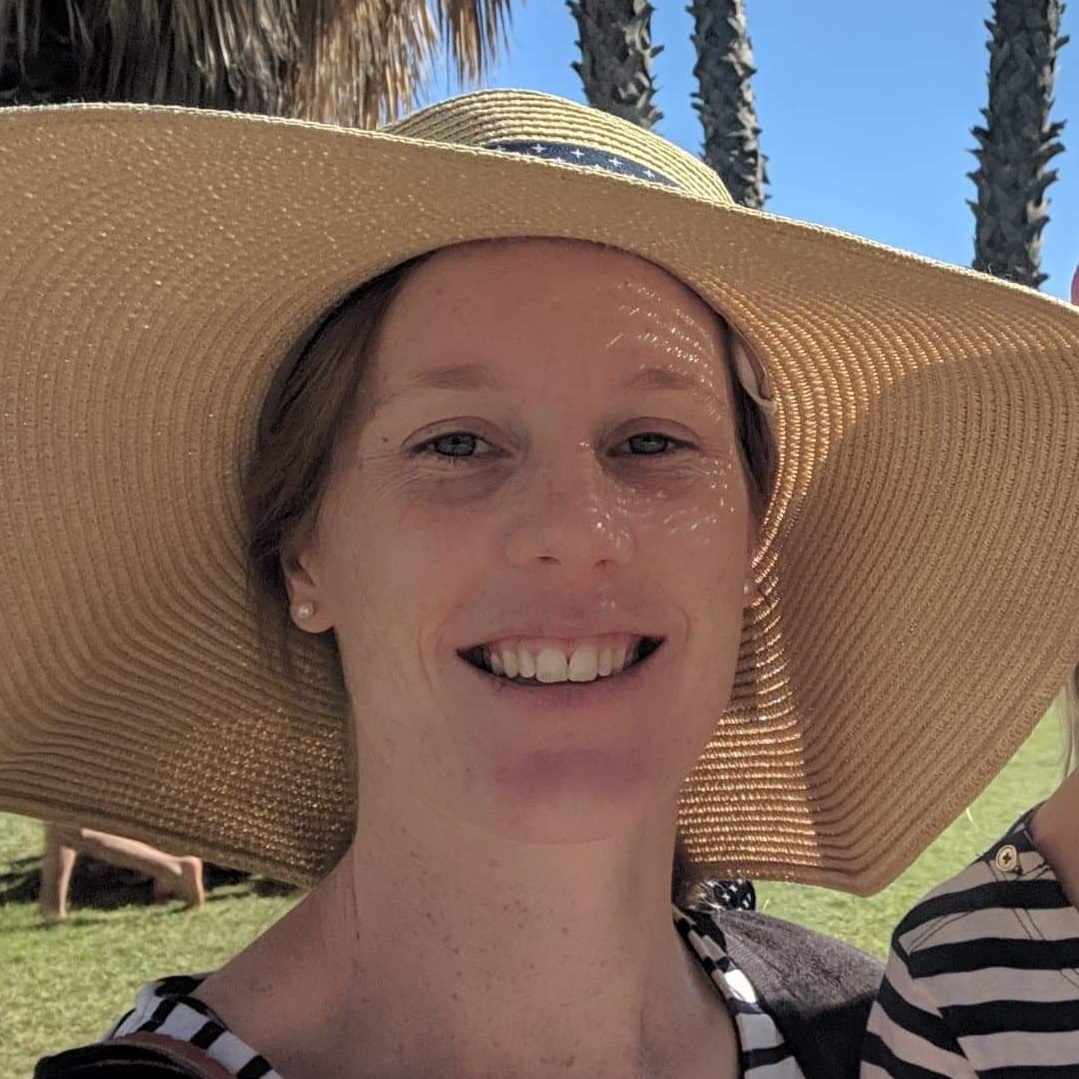 "I already know a lot of the zero waste things so wasn't sure how valuable the course would be but I learned a lot. Especially where to recycle things and places to find info. I'd recommend WASTEless to people who are looking to change as it gave lots of great beginners info."
- Sarah Malacari, Perth; previous course participant, WASTEless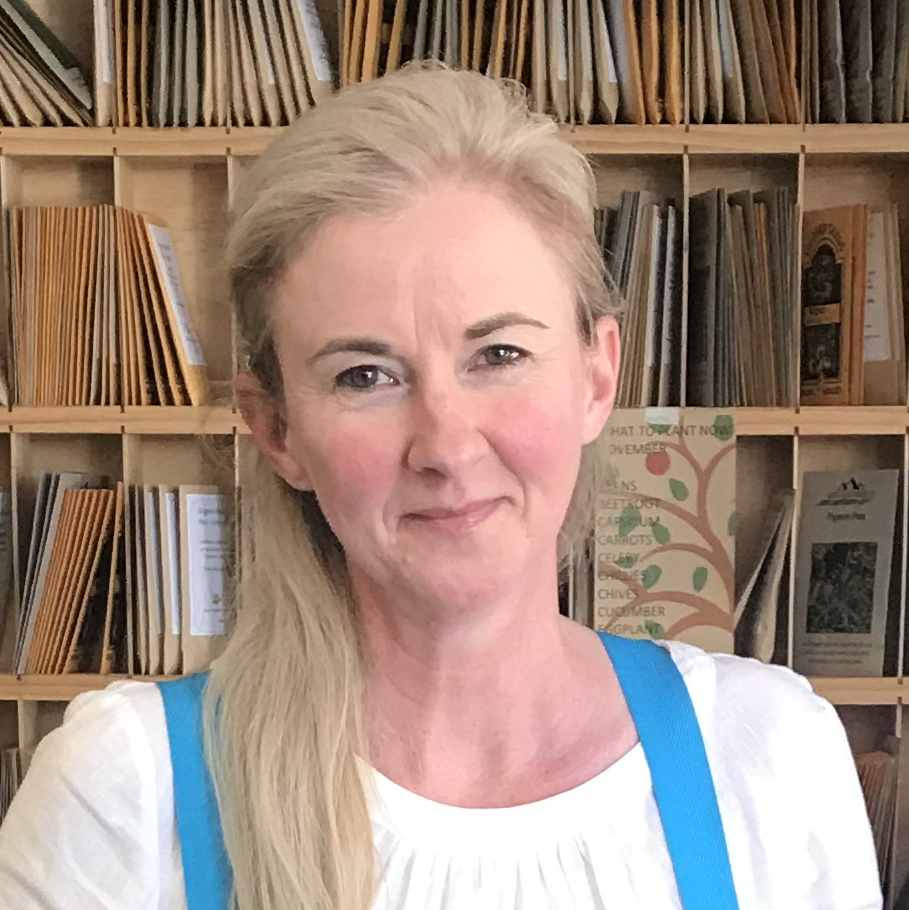 "I found the course to be far more engrossing and inspirational than I'd expected. It was lovely to be surrounded by like-minded people who care about doing better re waste and plastic."
- Sally, Perth; previous course participant, WASTEless
This course is closed for enrollment.
Your Instructor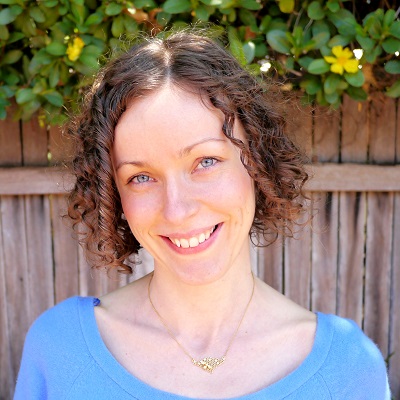 Hello there! I'm Lindsay, a passionate zero-waste and plastic-free living educator, author and spokesperson who teaches people take action to reduce their rubbish, and find a more meaningful life with less waste and less stuff.
Waste education is both my passion and my profession. Since 2013 I've delivered more than 200 talks and workshops to a diverse range of students and audiences: local and state government organizations, community groups, small businesses and large organizations including Bankwest and KPMG. In 2016 I spoke at Tedx Perth about 'The Non-Disposable Life'.
I began my website Treading My Own Path in 2013, sharing ideas, tips and strategies. In May 2019 I published my first book "Less Stuff" with Hardie Grant books.
I've been featured by the ABC and BBC, Channel 9, The Guardian, Seven West Media, The Sunday Times, TreeHugger and more. I love sharing what I've learned and helping others. My passion: to encourage and support others to embrace change, reconnect with their values and make a positive impact in their own lives and on the world around them.
Beginners AND those wanting to take the next steps. If you're working towards plastic-free and zero waste living, and want strategies, how to's and direction, this course will help you get there faster and with less stress.
People wanting to take zero waste into their community. Keen to spread the word and engage your own neighbourhood and networks in the real world? WASTEless will give you knowledge of the basics of zero waste living and the options available, plus a good understanding of the issues and complexities along the way.
Busy and/or want-to-be-done-already types! You don't have time to spend hours online scouring social media and blog posts for ideas that might (or might not) work for you. You want done-for-you resources, step-by-step action plans and a single easy-to-navigate hub with everything you need!
Anyone wanting to feel part of a community. Want a place to share successes and problem-solve struggles? Looking to connect with like-minded people who understand the issues and want to make a difference? WASTEless isn't just a place for learning, it's a space for connecting.

This course is closed for enrollment.
Frequently Asked Questions
When does the course start and finish?
The next round of WASTELESS begins on Monday 13th January 2020. The 8 modules will be released over 8 weeks, and you'll have access to all the content - and the private online Facebook group - for 365 days.
How long do I have access to the course?
After enrolling, you have unlimited access to this course for one year - 365 days - across any and all devices you own. You can download all the PDFs to keep forever.
What if I am unhappy with the course?
I've put all my knowledge and experience from running over 250 talks and workshops into making this course the very best it can be, and I really want you to have a great experience. If, after accessing the course and making your best effort to complete the content, you're unhappy, please contact me in the first 30 days and I will give you a full refund - guaranteed.
When do enrollments for the course close?
Enrollments for this course close on Sunday 12th January at midnight GMT. This means all students start the course at the same time and work through the content together.
Why should I study with you?
I've been running workshops and teaching waste education since 2013; it's been my full-time profession since 2016. I've taught hundreds of people in information sessions, hands-on workshops and multiple session courses. I've worked with local and state government, community groups, not-for-profit non-government organizations and small and large businesses. I'll be going through the course with you, so you'll have real life support every step of the way. This isn't just a bunch of content online for you to figure out yourself. You'll have me alongside to ask questions and help you figure out the trickier bits. Plus you'll have a year's access. So if life gets in the way you'll still be able to catch up. The content will be updated as things change so you'll always be up-to-date.
What currency are the course enrollment fees?
Actually, you have a choice! The course has the option to pay in Australian dollars and US dollars. This is because many people prefer to pay by Paypal, and the software only makes it possible to pay using Paypal when the currency is US dollars. If you choose to pay the full course fee upfront in US dollars, you'll have the option of paying by Paypal or credit card. Please ensure you check the currency you're paying in before you click pay - it will be displayed in big letters in the cart area.
Is the course only for Australians?
Absolutely not! The course is designed to be location-independent. I'm from the UK originally and lived there for 30 years before moving to Australia in 2011. In the past we've had participants from the USA, Canada, the UK, Ireland, Australia, New Zealand and mainland Europe join us! The Resource Pages have dedicated UK, Australia and US/Canada sections, and these are things I'll continue to expand in time as things change. All the printables are not location-dependent at all.
BE the change you want to see.

There are plenty of things we'd all love to change about the world - and waste is one of those issues we have the power to do something about. Starting now. Let's not waste our opportunity to lead by example and be part of the solution.

This course is closed for enrollment.