Rethink Your Rubbish

Would you like to get better at recycling, and throw less stuff away? Want solutions to do your bit to make the world a better place? Keen to get curious and creative, connect with a whole community passionate about doing what they can to make a difference, improve your health, support independent local businesses and tread more lightly on the planet... all by reducing your rubbish and wasting a whole lot less?
Good news! You are in absolutely the right place.
We all make choices that have the potential to create waste every day, and the opportunity to do things differently. We can be part of the problem, or we can be part of the solution.

We have the power to make a difference, starting where we are, with what we have.
This course will show you how, step by step.
WASTELESS will give you the skills, tools and resources you need to take action to reduce your landfill waste, rethink recycling and make positive changes to your lifestyle.
The Course Outline: What We'll Cover
WASTEless is divided into 8 modules covering all the aspects you'll need to consider and steps you need to take to reduce your trash by half.
Whilst the content is designed to get you from start to finish in 60 days, the course is designed for you to go at your own pace.
So no pressure! You can work as quickly or slowly as you like.

You'll have access to all the videos for an entire year and all the course materials (cheat sheets, checklists and 'how to action' guides) are available to download as PDFs and keep forever, so there's no rush if you prefer to take your time and go more slowly.
Here's how we'll divide the content up: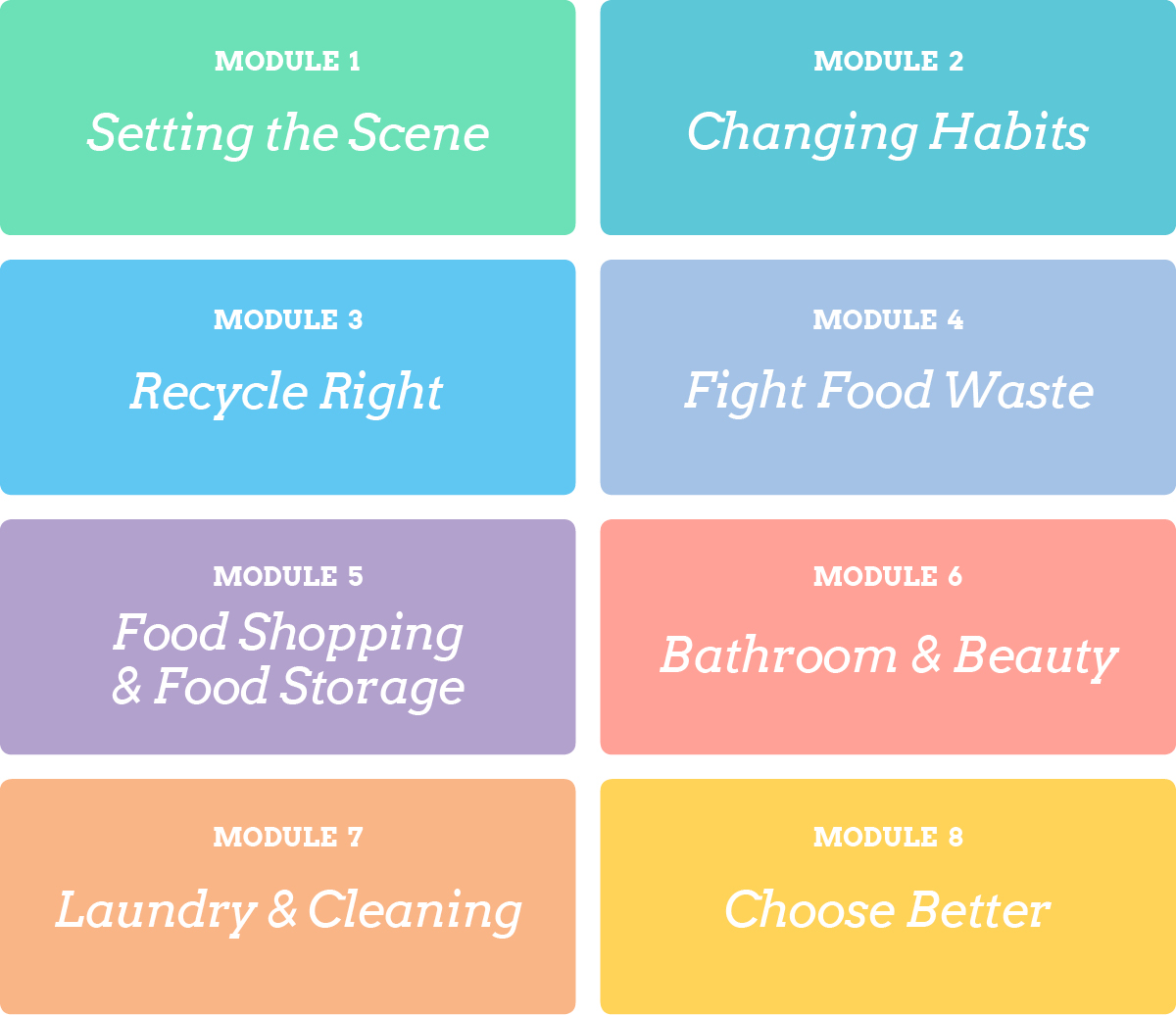 During the first 8 weeks you'll also receive a weekly email with support, guidance and encouragement as you work through each of the modules.

Together we'll walk through every step you need to take and all the things you need to think about when reducing your waste, avoiding the single-use plastic and making lasting changes in your life.
We'll break everything down into easy-to-digest and manageable chunks.
No guesswork and maximum productivity.

There is also a private online Facebook group exclusively for members of the course, where you'll have a safe space to ask questions, share frustrations and celebrate wins - with 365 day access - and know that your specific questions will be answered.
Not on Facebook? No problem. I'll give you my phone number* for our private message chat group too. (*Not even kidding.)
Plus, you'll be able to ask me anything and expect a response, and that goes well beyond those first two months. You'll have access to support for an entire year - 365 days - to help you continue to take the next steps and make changes long after those early days are over.
But wait...there's more! (Keep reading...)
More Than Just An Online Course

This course isn't just a bunch of online videos, transcripts, slide decks, PDF worksheets and resources (although you will get all of these things, of course!)
This course is a 12 month membership to the WASTELESS program.
You'll be part of an online community that's welcoming, supportive and more than happy to help!



You'll get support from me, but also from the other participants, past and present. And you'll be able to share your ideas, too. There is never one way to do anything, and a problem shared is always a problem halved.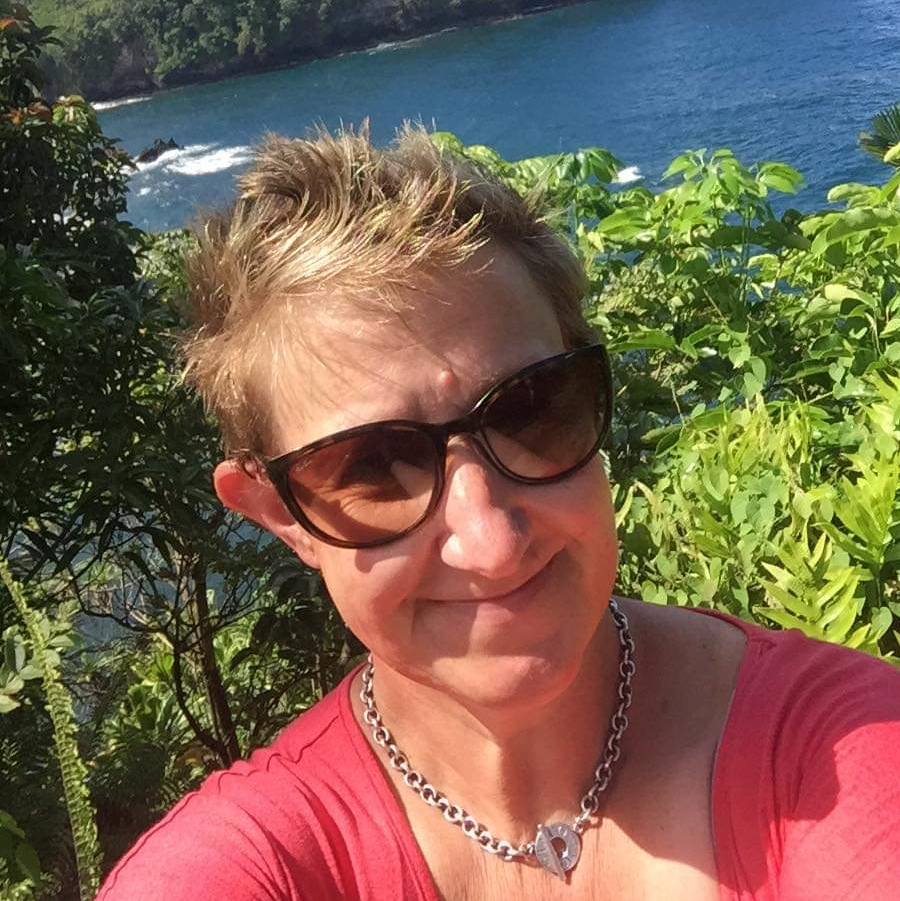 "I thought I was already doing a lot to save the planet. This course opened my eyes to so much more that I can do."
- Tracy Bishop; previous course participant, WASTEless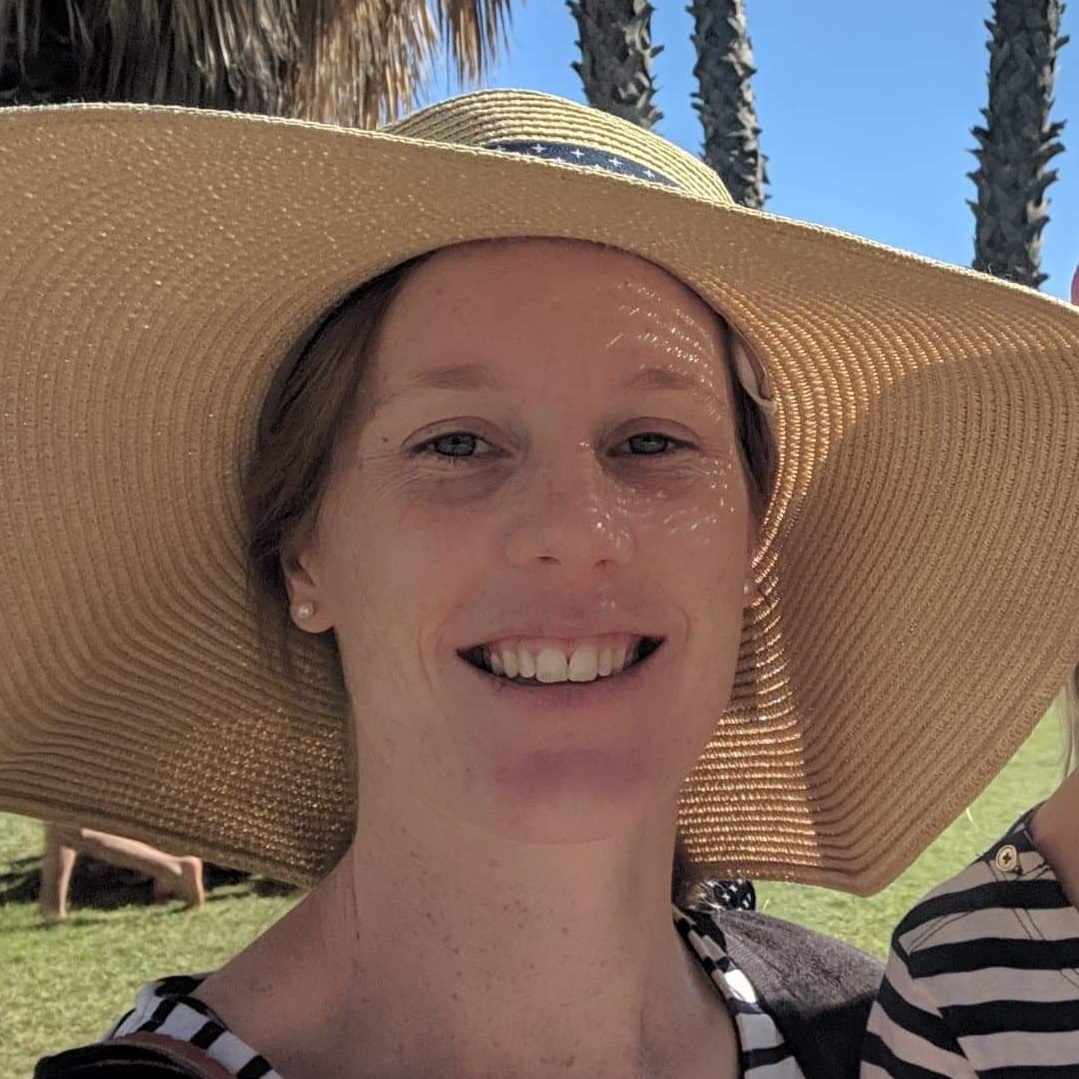 "I already know a lot of the zero waste things so wasn't sure how valuable the course would be but I learned a lot. Especially where to recycle things and places to find info. I'd recommend WASTEless to people who are looking to change as it gave lots of great beginners info."
- Sarah Malacari; previous course participant, WASTEless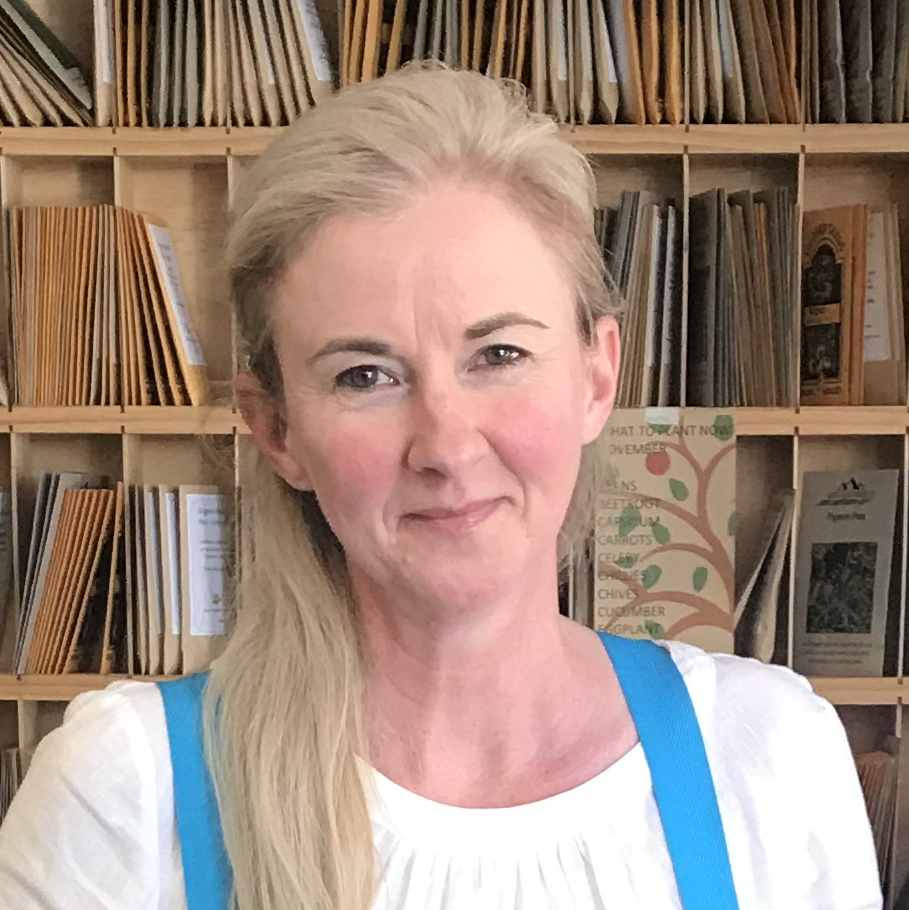 "I found the course to be far more engrossing and inspirational than I'd expected. It was lovely to be surrounded by like-minded people who care about doing better re waste and plastic."
- Sally; previous course participant, WASTEless
Your Instructor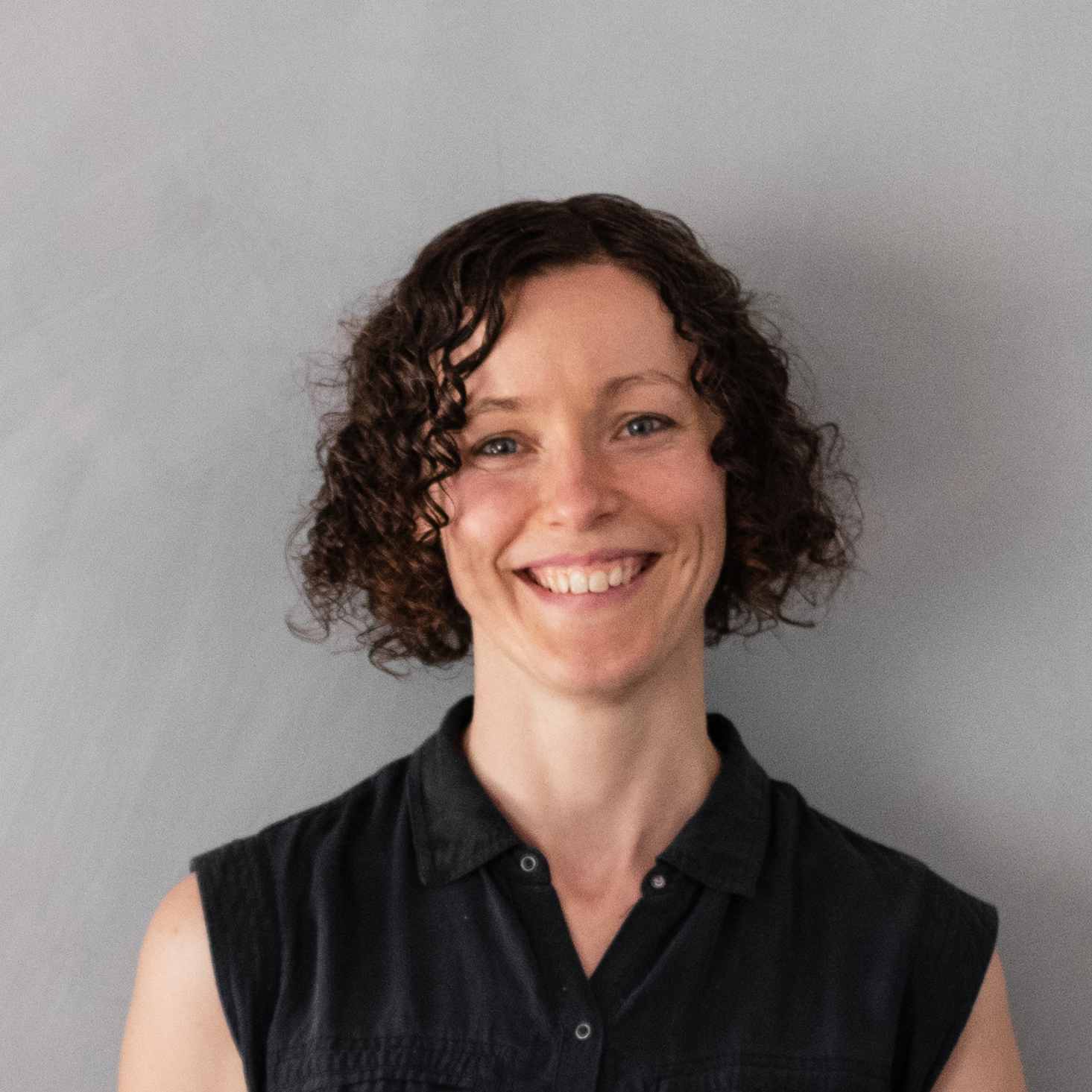 Hello there! I'm Lindsay, a passionate zero-waste and plastic-free living educator, author and spokesperson who teaches people take action to reduce their rubbish, and find a more meaningful life with less waste and less stuff.
Waste education is both my passion and my profession. Since 2013 I've delivered more than 300 talks and workshops to a diverse range of students and audiences: local and state government organizations, community groups, small businesses and large organizations including Bankwest and KPMG. In 2016 I spoke at Tedx Perth about 'The Non-Disposable Life'.
I began my website Treading My Own Path in 2013, sharing ideas, tips and strategies. I've also published two books with Hardie Grant books about living with less waste: Less Stuff (2019) and The Less Waste No Fuss Kitchen (2020).
I've been featured by the ABC and BBC, Channel 9, The Guardian, Seven West Media, The Sunday Times, TreeHugger and more. I love sharing what I've learned and helping others. My passion: to encourage and support others to embrace change, reconnect with their values and make a positive impact in their own lives and on the world around them.
Beginners AND those wanting to take the next steps. You're wanting to reduce your waste, use less plastic and get better at recycling, and want strategies, 'how to's and direction, this course will help you get there faster and with less stress.
Busy and/or want-to-be-done-already types! You don't have time to spend hours online scouring social media and blog posts for ideas that might (or might not) work for you. You want done-for-you resources, step-by-step action plans and a single easy-to-navigate hub with everything you need!
Anyone wanting to feel part of a community. Want a place to share successes and problem-solve struggles? Looking to connect with like-minded people who understand (and care bout) the issues and want to make a difference? WASTELESS isn't just a place for learning, it's a space for connecting.

Frequently Asked Questions
When does the course start and finish?
The course starts and soon as you enroll! There's no waiting period. Sign up, and you can get going at your own pace.
How long do I have access to the course?
After enrolling, you have unlimited access to this course for one year - 365 days - across any and all devices you own.
What if I am unhappy with the course?
I've put all my knowledge and experience from running over 300 talks and workshops into making this course the very best it can be, and I really want you to have a great experience. If, after accessing the course and making your best effort to complete the content, you're unhappy, please contact us in the first 30 days and we will give you a full refund - guaranteed.
Why should I study with you?
I've been running workshops and teaching waste education since 2013; it's been my full-time profession since 2016. I've taught hundreds of people in information sessions, hands-on workshops and multiple session courses. I've worked with local and state government, community groups, not-for-profit non-government organizations and small and large businesses. I'll be going through the course with you, so you'll have real life support every step of the way. This isn't just a bunch of content online for you to figure out yourself. You'll have me alongside to ask questions and help you figure out the trickier bits. Plus you'll have a year's access. So if life gets in the way you'll still be able to catch up. The content will be updated as things change so you'll always be up-to-date.
What currency are the course enrollment fees?
There are two pricing options: Australian dollars (AUD) and US dollars. You can choose whichever works best for you.
Is the course only for Australians?
Absolutely not! The course is designed to be location-independent with a dedicated focus on Australian, USA and UK living. I'm from the UK originally and lived there for 30 years before moving to Australia in 2011. In previous courses we've had people from New Zealand, South Africa, UAE, Ireland, Germany, USA, Canada and the UK. The Resource Pages have dedicated UK, Australia and US sections, and these are things I'll continue to expand in time as things change. All the printables are not location-dependent at all.
BE the change you want to see.

There are plenty of things we'd all love to change about the world - and waste is one of those issues we have the power to do something about. Starting now. Let's not waste our opportunity and be a part of the solution.